This is Wallenstam
Wallenstam is a company that does more than just manage buildings. We work in close collaboration with cities to create safe, secure places and neighbourhoods that people love to live in, work in and visit. Wallenstam builds, develops and manages properties, mainly in Stockholm and Gothenburg.
We offer a range of high-quality housing in both cities, and we have chosen to concentrate our commercial properties on Gothenburg. We take environmental issues and society's increasing need for security very seriously indeed and we are always looking for new opportunities to build, develop and work more sustainably.
11,800 apartments in attractive locations
We champion rental properties as a housing choice. They represent a flexible, worry-free housing choice for tenants, and they are important for the city. We are one of the largest private-sector landlords in Sweden with around 11,800 apartments in attractive locations in Gothenburg, Stockholm and Uppsala.
For us, responsible city development is just as much about developing existing buildings as it is about new construction.
Commercial properties in attractive locations
In Gothenburg, Wallenstam is one of the city's major operators and developers of the local market. The customer structure is stable and our broad range of properties is concentrated to Gothenburg's inner-city and nearby areas.
Wallenstam builds, develops and manages properties and areas based on the needs of people and society, and according to the wishes and requirements of customers and shareholders. We create value growth through cost-efficient construction, development and management as well as a high level of service and long-term sustainability. Profits are reinvested and used to develop the business further. Shareholders receive a share of the profits in the form of dividends.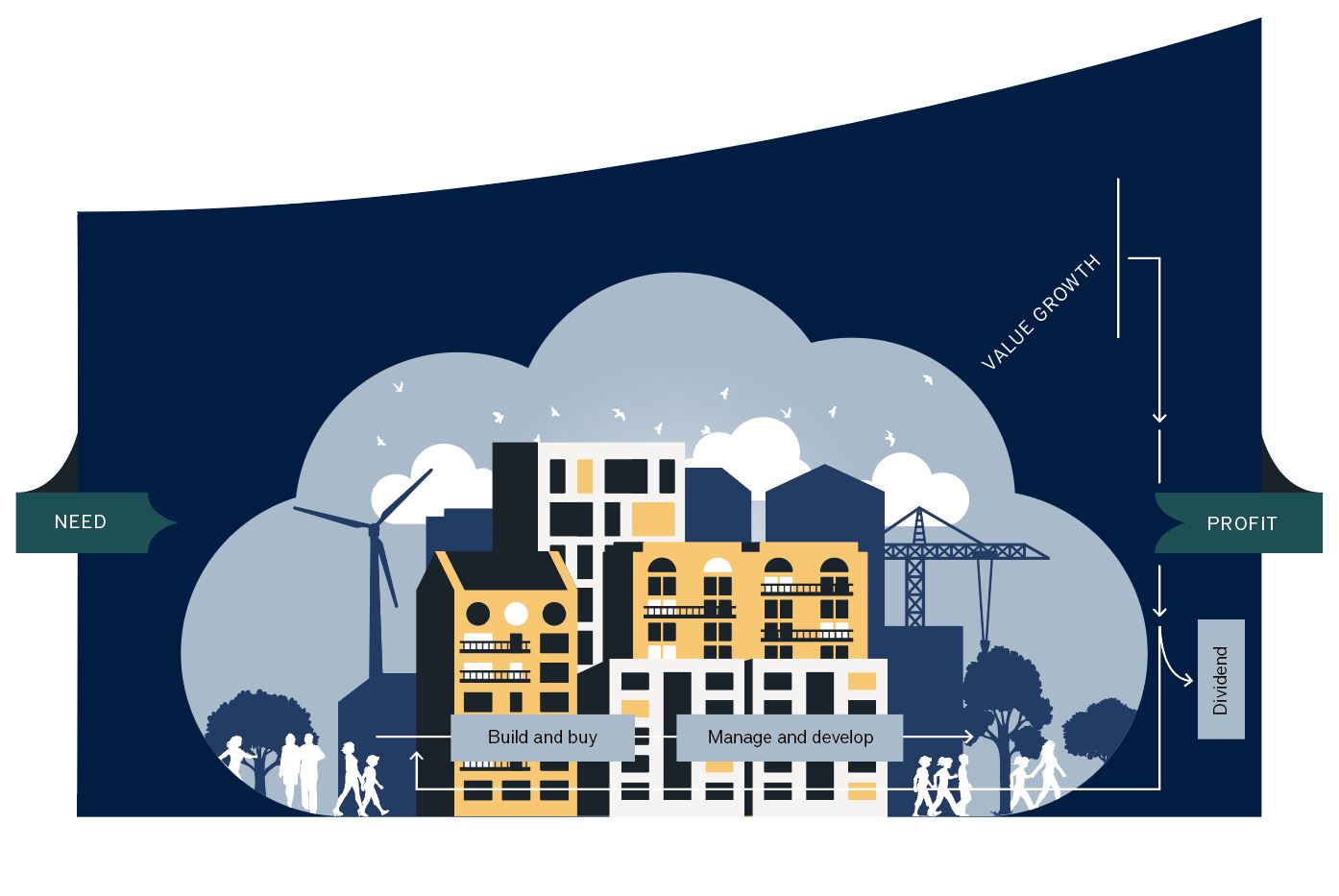 Number of properties: 229
Customers: around 11,800 households and 1,000 commercial tenants
Investment property value: SEK 65 billion
Market capitalization: SEK 27 billion
Occupancy rate, lettable area: 97%
Lettable area: 1.3 million sq m
Number of apartments under construction: 1, 836
Number of wind turbines: 53
Number of employees: around 250
Markets: Stockholm, Gothenburg and Uppsala
Founded in 1944
The Wallenstam share is listed on Nasdaq Stockholm, Large Cap.
Core values
Progress
Respect
Commitment
Code of conduct
Our Code of Conduct is based on and summarizes the policies and guidelines that govern the business. It is revised and adopted by the Board annually, and sets out the framework for conducting our work in a responsible way.