Investing in Wallenstam
Wallenstam is a company with a long-term focus, where we deliver over time regardless of the economic situation. We are following out business plan, something that helps our shareholders, financiers, employees and others in our external environment to know what we want to do as a company and where we are going. This creates transparency, predictability and confidence for our stakeholders, and contributes to a less volatile share.
Stable return at a low risk
Wallenstam's property holdings are distributed, in terms of floor space, among 56 percent residential properties, 39 percent commercial properties and 5 percent public use properties. The company stands for long-term value creation and has a flexible business model, for example regarding form of tenure in new construction projects. The financial position is strong, with a high equity/assets ratio and low loan-to-value ratio. Historically, the share has displayed a good performance, delivering a stable return.
Create growth through cost-efficient new construction and efficient management
We plan future investments in new construction of about SEK 3 billion per year, and we show average value growth, thanks to our new construction, in completed rental apartment projects of 30–40 percent per invested krona. Combined with efficient management and successful letting operations this contributes to value creation, through our own work, benefiting both the company and shareholders. The project portfolio with new possible construction projects is continaually replenished.
Offer the desired product in selected growth markets
We are building and managing rental apartments in attractive locations in Gothenburg, Stockholm and Uppsala. Our commercial holdings are concentrated in Gothenburg inner city. Our concentration strategy has delivered stable value growth and high occupancy rates regardless of the market climate.
From our long experience of property management, construction and of the conditions and requirements of commercial and private tenants, we have good know-how about urban development to ensure a vibrant city. Combined with innovation as well as climate and environmental investments, which also reduce operating expenses, and social engagement in the places we operate in, we are working to contribute to a better society.
We have a huge investment portfolio and in recent years we've created our own value growth through construction. We do this in an environment with extremely low growth and exceptionally low interest rate levels.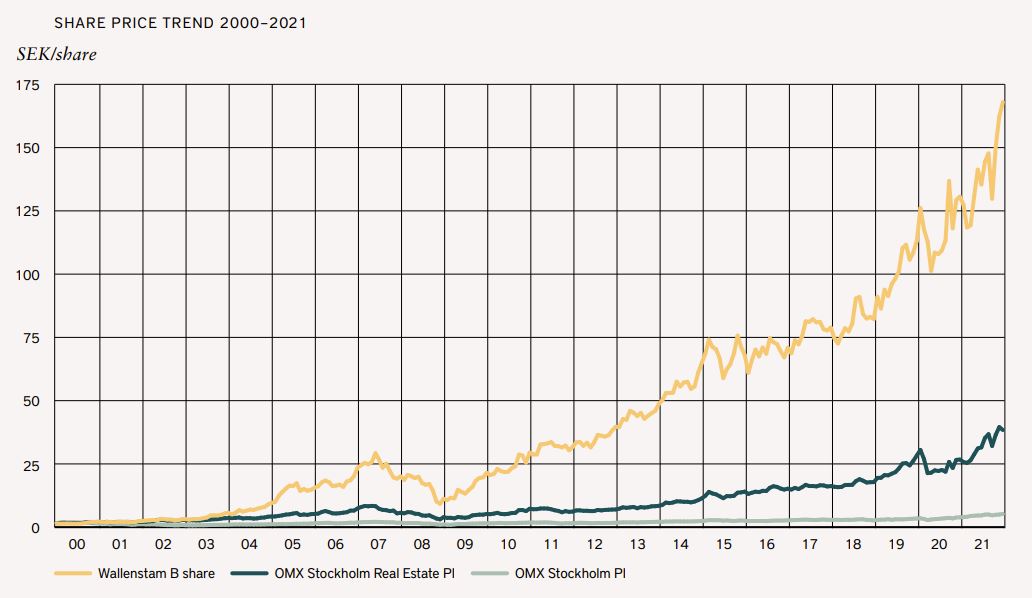 Dividend for each financial year, SEK per share
| | | | | | | | |
| --- | --- | --- | --- | --- | --- | --- | --- |
| 2012 | 2013 | 2014 | 2015 | 2016 | 2017 | 2018 | 2019 |
| 0.63 | 1.00 | 1.13 | 1.50 | 1.70 | 1.80 | 1.90 | 0.50 |
Parameters that affect the development of the company in the short and long term
Attractive properties and good management result in satisfied tenants, stable occupancy rates and rental income and good business opportunities for the company.
Access to land in the right locations is essential for enabling the construction of new homes and requires strategic and practical work every day.
Secure financing is important because access to capital is a vital resource for the operations, and is crucial if we are to develop and expand to the desired extent.
Good corporate culture and skills development in order to attract and engage the right employees are important factors for continued successful development.
The market situation and market conditions, which change over time, affect property values. Properties in attractive locations where demand is high generate good returns and excellent value growth over time.